A young couple decides to take a well-earned trip to New York.
At the airport, they run into their downstairs neighbors.
-Hi there! What a coincidence! Where are you heading?
-We're going to Miami for the weekend.
Because there is time to kill (we are flying Air Canada, and it's a beautiful sunny day, so the plane is delayed three hours), the lively conversation continues even if it takes a turn to the trivial.
-…This stray cat keeps coming to our door. I wonder if you've seen it.
-Not the white cat with orange spots?
-Yes.
-That's our cat! We've tried to put a collar on him, but he always gets out of it.
-Oh… we've been feeding him.
-We thought he was getting fat…
So, for those of you who were wondering what was going to happen to that cat, which we almost gave away (read previous post), he is going to be fine.
…And yes, we are suckers!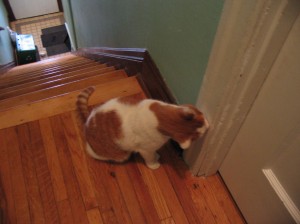 All content copyright © 2009 Isabelle Gaumont. All Rights Reserved.